Greenington, Exploring Fine Bamboo Furniture
Greenington, Exploring Fine Bamboo Furniture
Reclaim Decor is proud to share the story of one of our favorite vendors, Greenington. Greenington's president and founder was manufacturing high quality bamboo products for over twenty years before he entered the business of creating his own line of high quality solid bamboo furniture in 2004. Based out of Kent, Greenington has pushed themselves to design new and innovative products and bring them to its customers.
What Makes Greenington Green?
Greenington works exclusively with Moso Bamboo. Moso Bamboo also known as Turtle-Shell Bamboo is a type of giant bamboo used as timber. In 5-7 years Moso grows to a harvestable age. Once mature it changes from a carbon sink, a plant which takes Carbon dioxide(CO2) from the atmosphere via photosynthesis, to a carbon source, it starts respirating, producing CO2. Once Mature bamboo is harvested new shoots form removing CO2 from the atmosphere as it grows to maturity making it one of the world's most eco-friendly, rapidly renewable resources.
Greenington does not use clear cutting, each bamboo culm used in the production of Greenington products is individually selected by the local farmer and harvested by hand. This preserves the eco-system of the native bamboo forest, and leaves the bamboo root system intact, from which new bamboo shoots will emerge and grow the following year.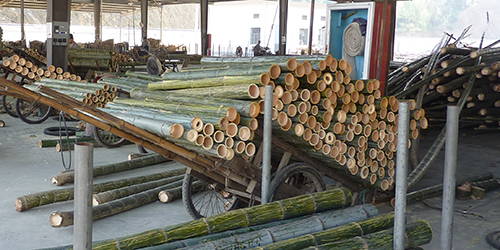 Greenington utilizes the entire bamboo culm in the manufacturing process, wasting nothing. 100% of the bamboo material is used, including the sawdust, which is used for generating steam for the dry kiln room and press machine.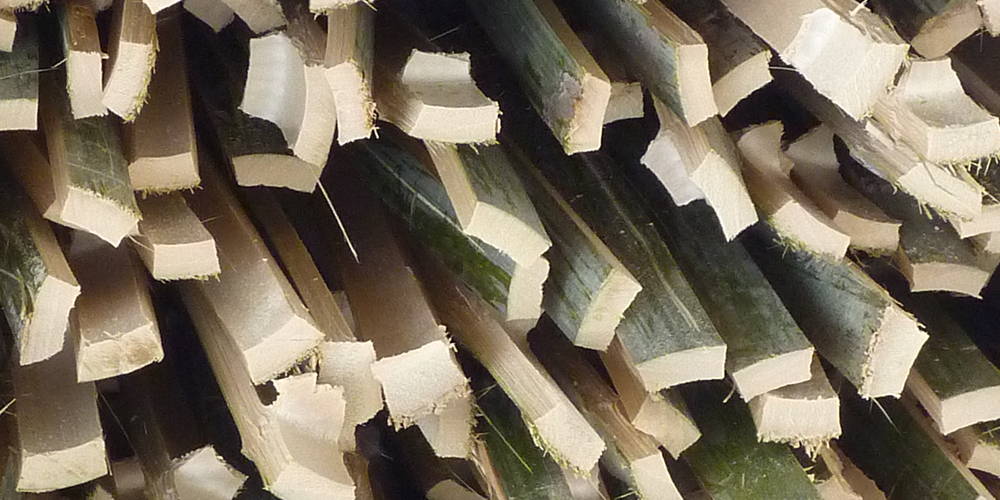 Above: Slated Moso Bamboo
---
Greenington is dedicated to make the highest quality products. They use soft-close guides on every drawer and their products are made exclusively with bamboo, No MDF, Veneer, or filler wood will be found in any of their pieces. Greenington products use materials that release very little Volatile Organic Compounds (VOC) and are well below US, European and California VOC standards. Greenington provides 2 different materials made from bamboo for all their furniture, Classical & Exotic Bamboo.
Classical Bamboo is solid strips of bamboo culm. These are milled to size and steamed to produce the Caramelized color unique to bamboo. After steaming the strips are laminated into solid bamboo plys & cross plys resulting in a material that is 20% harder than Red Oak. Bamboo plys are then assembled into furniture. Each piece is finished in Black Walnut, Mocha or Sable coloring or left in its natural beauty. A final nitrocellulose finish is applied which maintains the finish and coloring throughout each piece's lifetime.
The exotic material is produced from finer strands of bamboo fiber left over from the production of the Classical ply. These fibers are interwoven and soaked in an adhesive material inside a 4-story hydraulic press, they are then compressed into super dense panels. These panels have a rich color resulting from from the compression and heat of production. The increased density of each panel makes them heavy and 100% harder than red oak.
Commitments to a Greener Future
Greenington has made a commitment to the environment not only by using an extremely eco-friendly material and is also a member of the Sustainable Furniture Council(SFC). Each member of the SFC is committed to minimizing carbon emissions, eliminating stream pollutants, using sustainable and recyclable materials in each of their products.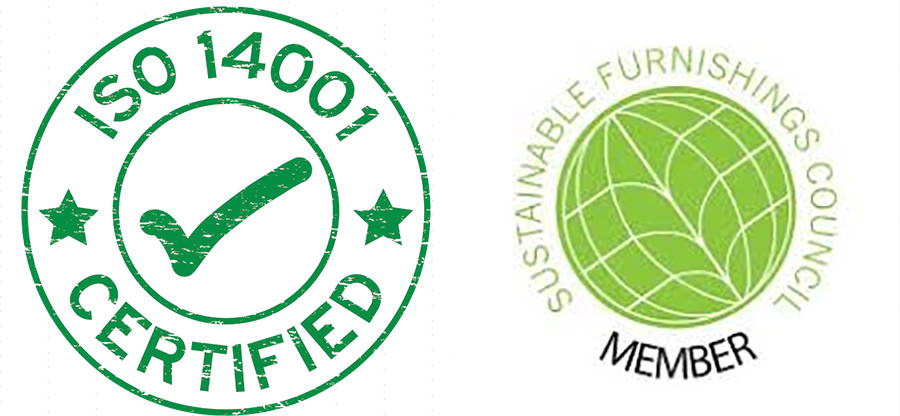 Greenington is also an ISO14001 Company. It adheres to requirements focused on environmental responsibility in a systematic manner that contributes to the environmental pillar of sustainability.